Updated April 26th, 2023
Most people want to achieve their goals, but most don't know how.
Yes, that was me too!
In fact, for the last 30+ years, I have been researching what millionaires with extraordinary lives do differently than others. And I discovered the answer in studying some of the most successful people in the world – Your Worth Barometer. This was one of the most significant discoveries of my career.
In my three decades of advising and researching the top 1-2% of millionaires, the Worth Barometer has proven over and over again to be the most significant determinant of success.
Here's a glance at this episode…
[03:52] The history of the Worth Barometer
[05:43] The biggest determinant of success
[06:23] The Grid and how it impacts your money and life
[09:51] The most important takeaway
[14:10] Characteristics of living above and below the grid
[21:09] The ultimate goal and the process
[24:19] How to elevate your Worth Barometer
[21:09] The ultimate goal and the process
In my second book, The 7 Principles of Becoming a Fulfilled and Wealthy Millionaire, I shared insight into how our beliefs and self-esteem impact every aspect of our lives.
A Worth Barometer (referred to as WB) represents our beliefs and self-esteem, and it is the biggest determinant of our success.
The WB is the gateway to the desired results, including money, relationships, health, or any other area of your life.
Perhaps you need more confidence, motivation, or clarity, or you lack money and feel stuck because you can't seem to get ahead. Regardless of the issue, elevating your Worth Barometer will help.
In today's episode, we dive into:
The History of The Worth Barometer

Early in my career, I realized we only use part of our brains. It also became apparent that there were two camps of millionaires: those with extraordinary lives and those who struggled with their health and relationships.
My journey to determine the difference between these two groups led me to discover that we all have a Worth Barometer.
What is Your Worth Barometer?
Your WB is a combination of your belief system and self-esteem. It is also the biggest determinant of your success.
Why is the Worth Barometer so Important?
It dictates everything about your life, including your relationship with money, peace of mind, happiness, joy, health, etc.
While you can have money and an unhealthy Worth Barometer, generally, it is a roller coaster ride. You have money, then you don't; rinse and repeat.
You can't be wealthy, healthy, and fulfilled if you have an unhealthy WB.
How is Your Worth Barometer measured?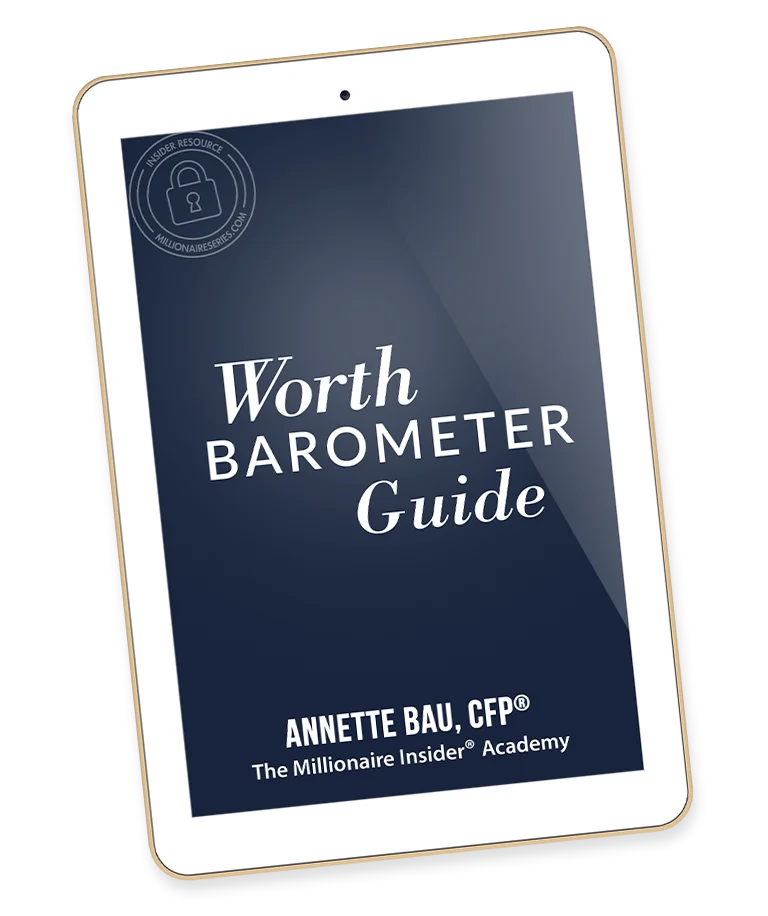 A three-level grid measures it.
Above the Grid (Level 3)
Level 3 is the optimal state. People have a "can do/will do attitude" at this level.
Their energy is high, and they have a positive and optimistic outlook on life. They take personal responsibility and ownership. Their focus is on the vision of their future.
This level has a well-integrated brain.
Their primary emotion—Love
At the Grid (Level 2)
Level 2 is the middle level. Conceptually, they understand it but are not living it. Emotions vacillate in this state.
Below the Grid (Level 1)
Level 1 has a "can't do or won't do attitude." Their energy is low and negative, and their outlook is pessimistic. 
They lack personal responsibility and ownership. They show up as a bully or a victim energy. Their focus is on the problem or pain.
This level can benefit from integrating their brain and developing their prefrontal cortex.
Their primary emotion—Fear
8 Steps to Elevate Your Worth Barometer

In today's episode, you will also learn eight insights for raising your self-esteem and beliefs so you can create more success in your life.
Conclusion – Your Worth Barometer – How to Be Successful
Most people would love to know the secret of success and what extraordinarily successful people do to achieve extraordinary results.
In my 30+ years of researching and studying the most successful people in the world, I discovered that the secret of success lies in our Worth Barometer.
Follow and Subscribe
If you love the content, we would really appreciate a five-star review. Until our next episode, take one action that will help you create a financially free life you love.
Click here to follow and leave a review.
Free Resource: Your Next Best Financial Step

Congratulations on taking another step to create a financially free life you love. Are you unsure about your financial future or that it's in order? Or are you ready to stop worrying about money or possibly the fear of becoming a bag lady and ending up broke in retirement?
If you are ready to know your financial house is in order so you have a secure financial future, please go to https://themillionaireinsider.com/nsf.
And that doesn't stand for non-sufficient funds.
It stands for Next Step Finance. It's the next best step of what you need to do so you can avoid an NSF notice in the future.
The number of women who were not broke or poor while working or married is staggering. Our mission for The Wealth Inside and Out® Podcast is to ensure you have critical information for you, your family, your friends, and anyone willing to listen to it and apply it to create a financially free life you love.
Click here to access your Next Step Financial Assessment:

Thank you so much for joining me for
Your Worth Barometer – How to Achieve Any Goal.
I'm Annette Bau (Bah oo).
All international copyrights are reserved.
Bye for now.
Bonus Training: "How to Elevate Your Worth Barometer":

Enjoy the episode!