Updated October 24th, 2023.
Do you ever wish that you knew things years ago? Or that you could reduce the time of your learning curve or you had insight and wisdom that could literally change the trajectory of your business, your life, or your money?
Well, I did, too. In fact, I would have given millions to have the insight I'm going to share with you today. I'm going to share some of the best financial decisions I've made so that you can learn from my successes and failures.
Transcript: Wealth Inside and Out® Podcast – The Best Financial Decisions I Have Made
So, let's dive in.
Hi, my name is Annette Bau (bah oo), your host of the Wealth Inside and Out® Podcast. I'm a Certified Financial Planner™ and founder of The Millionaire Insider®.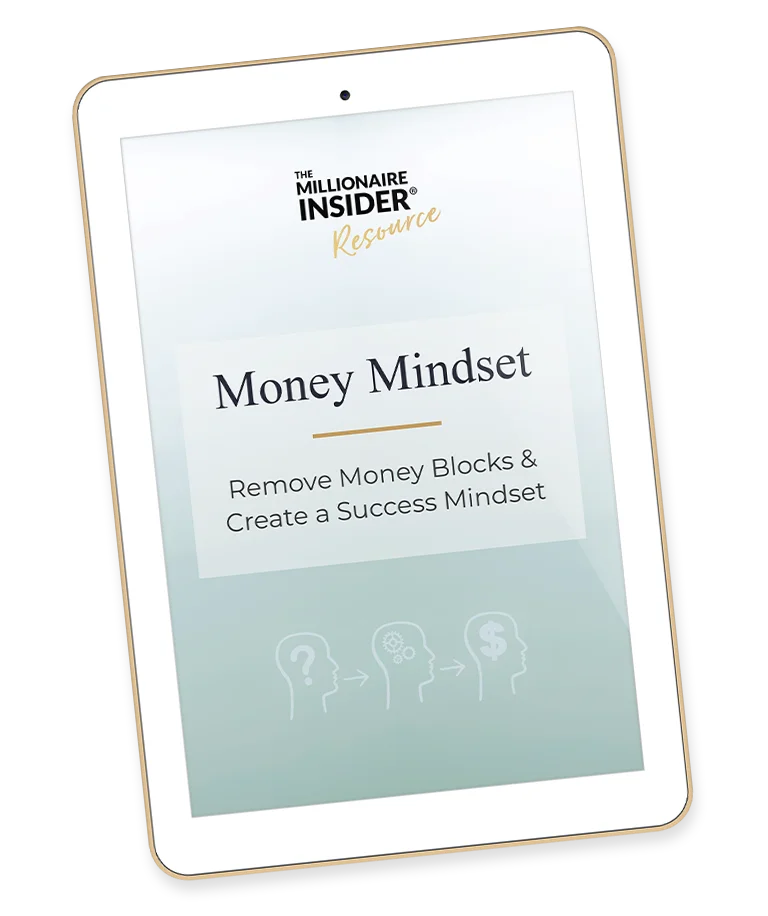 For over 30 years, I have been advising and researching the top 1% of millionaires.
I am passionately obsessed with money, mindset, and the intersection of self-worth and net worth and how the two connect and allow us to live fulfilled and wealthy lives on our terms.
From Humble Beginnings
Growing up in the Midwest, I had a dream. I began investing $25 a month 35 years ago, and today have a multimillion-dollar net worth.
I teach the tried-and-true principles that only someone with over three decades of experience advising millionaires would know.
This podcast is different – it's about much more than money. We talk about mindset, success, money blocks, worth barometer, and all aspects of money and topics from practical manifestation, along with real-world how-to and everything in between, with the goal of making your journey easier and more fun.
Think of this as coffee, actually, matcha tea, learning real-world, common sense, money, and life advice from a BFF that you can start applying today. If you want to create a financially free life you love, you are in the right place, my friend.
This is the Wealth Inside and Out® Podcast.
Today's free resource is our Millionaire Mindset Guide.
You can go to https://themillionaireinsider.com/smmg to access it.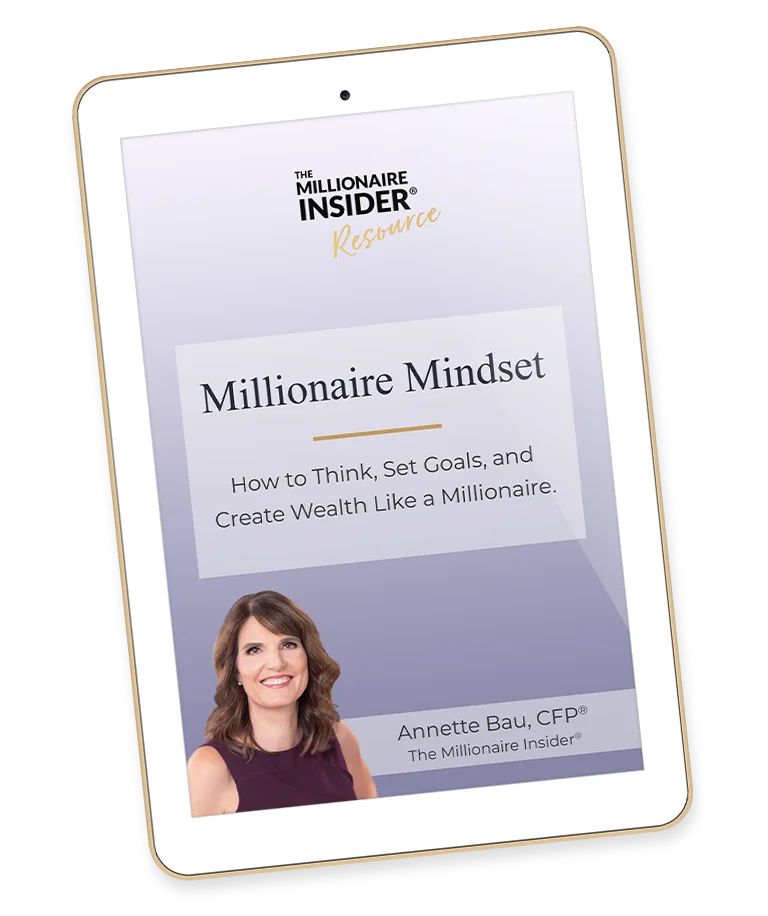 If you want one of the most insightful resources available on millionaires, how they think, develop habits, and create wealth, you can access this free guide. I've literally spent the last 30-plus years advising and researching wealthy clients, and I share all the insight as well as the financial decisions in this resource.
The insight you're going to learn in this resource is priceless, and it's unavailable because most people haven't spent the last three decades advising millionaires and almost forty years researching them. So again, https://themillionaireinsider.com/smmg.
You're going to love that resource.
Disclosure
All materials and intellectual property are copyrighted by millionaireseries.com. The information we provide is not intended to replace any advisor or specialist or to provide you with any investment, financial, tax, retirement, or any planning or healthcare advice.
All participants agree to hold millionaireseries.com and its affiliates harmless or results achieved or not achieved.
So, let's dive into
The Best Financial Decisions I Have Made
1. Marry the Right Person
The first one is you must marry the right person. I personally feel marriage is one of the most challenging relationships in our lives. That's why it's so important to choose the right partner, because let's face it, not only do they dictate a lot about your personal life, your emotions, and things such as that, but also money. If you marry the wrong person who doesn't make good financial decisions, just cut that net worth in half, especially if you live in a community property state.
Ideally, you want to find someone who understands you and shares your values. For me, it's integrity, money, family, and relationships. Specifically, when it comes to money, I'm probably a little more focused on the accumulation of wealth than my husband. However, we're both very conscious of money. We take it very seriously, and we want to be good stewards of the money we've been blessed with.
My husband and I also have a philosophy of making collaborative decisions. So, it's just important that you find and marry the right person. Ideally, you do it from a place of love, a higher vibration, as compared to fear, worry, and anxiety.
People that I see who've had such challenges in their relationships oftentimes attract somebody when they're at a low point. That's never ideal, so just be aware. But marrying the right person is critical and has been one of the best decisions I've made.
2. Start Financial Planning Early in Life
I share that I began saving $25 a month 35 years ago. Then, as I kept saving and accumulating wealth, I was able to become debt-free. Clearly, continuously saving was one of the best financial decisions I have made in my life.
I'm convinced that the discipline I had to save money when I didn't have money is what has helped me arrive at my net worth goal. This discipline has also helped me to live a fulfilled and wealthy life.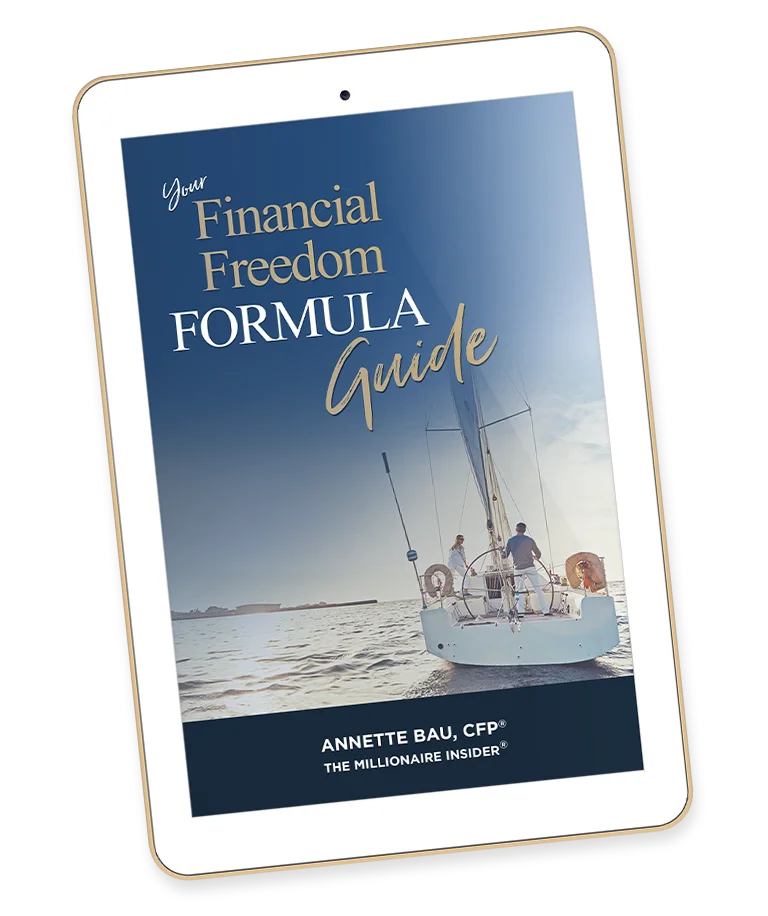 Because what happens is when you develop that skill, you can execute regardless of what's happening out there. You are much more focused on where you are right now, where you want to go, and the emotion you want to feel when you get there. It changes everything. So, start planning and saving early on.
When you start an investment plan and you're getting professional advice (which I strongly recommend) make sure it's from a qualified advisor who manages money and has the experience you need.
Many people who are out now giving investment advice are not registered. They're unlicensed, and they're not qualified. Be aware of that.
3. Hire a Great Team of Advisors
This is so critical.
The first advisor I hired was a CPA who does our taxes. She's still our CPA to this day, although she sold her firm to a junior partner. But she still does work on our stuff. She also helps with accounting and questions relating to that.
Accountant
For years, I had somebody who did our accounting, but I found a lot of times what was happening was she would miss things. It wasn't her fault. She just had no idea that we didn't make that charge or that they double-billed us.
I found that we save a lot more money now that I'm paying more attention to it because I'm aware of what we're spending money on. Then, if we see a suspicious charge, we can promptly do something about it.
Know Your Value
I also found that it took me longer when I wasn't doing it myself. It doubled the time it took me.
Because what ended up happening is I had to go back and just figure it out. Are these categorized correctly? And are the numbers all accurate? What about this? Or, I don't understand that, or no, this is wrong. It was just one thing after another. And the third thing is I wasn't on top of our spending.
We've got a complicated situation. And we are down to like eight tax returns, maybe seven. It's crazy how many tax returns we do. At one time we were up to twelve. It was insane. We cannot have this complicated of a situation. So, we have dummied that down.
Paying Attention to Cashflow

But the issue is now I'm much more on top of what we're spending in our different partnerships and where we are from a cash flow standpoint.
It takes me about six to eight hours a month to do our accounting and prepares us for tax planning. Here we are at the end of September, and we are just getting ready to do our final return because we can't do our personal return until we've done all the partnerships.
So, it does take some time, but I spend about two days a month and about three, sometimes four hours, working on it. It is a lot, but it also gives me a lot of insight. I think that's critical.
Delegate Don't Abdicate
You have to decide for yourself. But if you do delegate it, just don't abdicate it. Abdicating is one of the worst financial decisions you could make.
I've seen so many people almost go bankrupt, and some go bankrupt because they were delegating and also abdicating. They weren't paying attention, and they had a silent partner. Oftentimes, what they do is they take the tax money, and instead of making quarterly tax payments, they're pocketing it.
Now, if you use a third party to do your taxes that will help, but you still need to pay attention.
Hiring Attorneys
We also hired an attorney, an estate planning attorney. And you want to have somebody that's qualified in tax planning with LLCs and trusts and all those things.
A business attorney is important. Securities attorney, obviously, I have one of those because I'm in that industry. He's been my attorney for 20 years, and he is priceless. I can bounce a variety of ideas off him. In fact, he's named as our trust protector for when we die.
A trade name attorney is important, too.
Business and Success Coach
I have a business coach and a success coach, who are very helpful. And I have a therapist and have had a therapist for years. We've had marriage therapists, which have been priceless, a psychologist, and I have a personal one.
Personal Therapist

I find that to be one of the best decisions I've made. I hired a new one about two or three years ago as I hadn't had one for quite a while. And then my good friend, who's a therapist, found one. She said, "She was so good."
I said, "I'm going to go to her." She said, "Why are you here? I said, "I'm not sure, but I'm sure I'll find out."
But she's helped me deal with the embodiment of emotion. Being able to look at situations and have the confidence to say, okay, that's right or that's wrong, especially when it comes to my family.
Boundaries, Behaviors, and Beliefs
My therapist has helped me to set boundaries and not ignore unacceptable behaviors. To me, that's been priceless because I want everyone to get along and be happy. My beliefs about what a family should be like were screwed up.

I want a "Leave It to Beaver" family, but most people don't have a "Leave It to Beaver" family. I don't even know if "Leave it to Beaver" is the right analogy. Whoever has a harmonious family and everyone gets along.
Everyone's mentally healthy. It's not reality. Okay? So anyway, that's just been priceless for me. I encourage you to hire a team and make sure it is a great one.
Ideally, you have one that is more than just the relationship side. One that also gets the money side and other things can be helpful.
So again, you have to decide. But it's been priceless for me.
Mental Health
One of the first psychologists I had was when I was in college and depressed. Thank God I never killed myself. But I just had a miserable childhood, a really traumatic one.
I remember when I was talking to him about my experience of growing up, and he started crying. He had been a counselor for 26 years, and I was 24 at the time. He said, "I have never met anyone who's gone through the emotional and physical trauma you have experienced."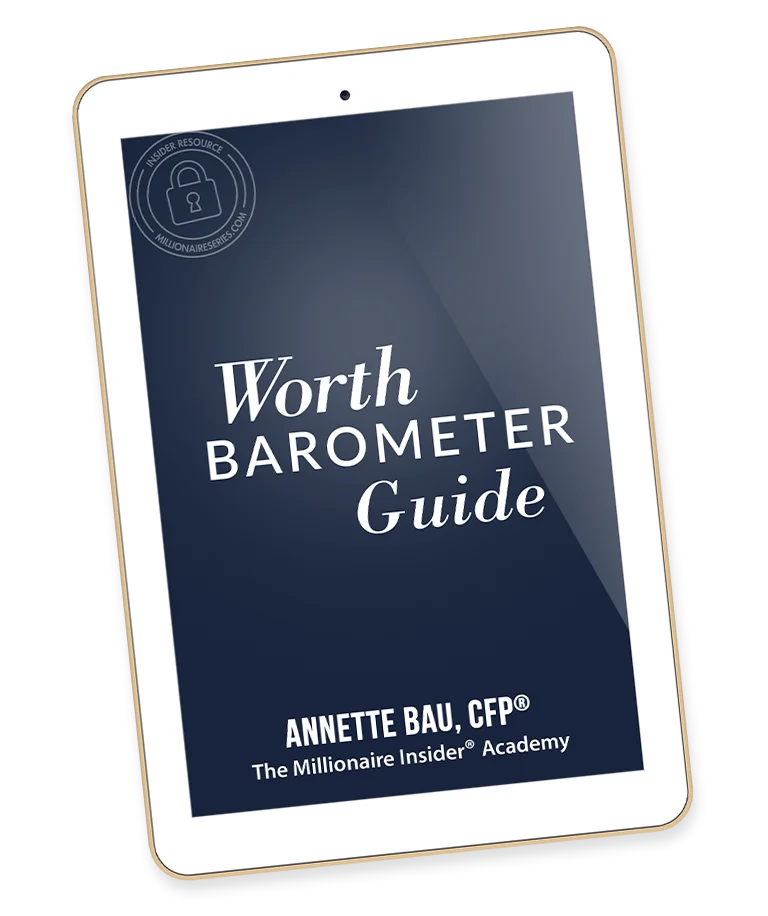 To make a long story short, he said, "I've never met anyone who's gone through that kind of trauma as a child who isn't either a drug addict or an alcoholic." Then, he started crying.
I'll never forget it because I remember thinking, I should be the one crying, right? But, more importantly, it gave me hope that I could have money, be mentally healthy, and live fulfilled.
I think one of the things that's so important for all of us as far as our mental health is being open and honest with other people. Thank goodness I've never been depressed.
I was depressed growing up because I was in such a miserable environment. But I rarely am depressed now. Occasionally I get overwhelmed. Sometimes, I get a little anxious, but nothing like what I experienced growing up.
Self-Confidence, Self-Esteem, and Your Worth Barometer
And so, I just encourage you to have self-confidence, self-esteem, and a healthy Worth Barometer so you can get help, even if you don't feel like you need help. When I hired my most recent therapist, it wasn't like there was any real pressing issue. But, over time, issues surfaced and she's been so helpful, and it's just priceless.
My therapist said, "You're the best. I just love working with you." Which is such a compliment because she's a renowned expert and speaks nationally. I said, "It's because I'm so screwed up."
She said, "No, you have helped me look at my own stuff and step up as a person." What a compliment.
My point is not to brag about being such a great therapist-patient but to have the confidence and the ability to get help and to feel that that is okay, that that's normal.
Many of my close friends and even family members have a therapist, and I think that's a good thing. And if you don't have a therapist, then hire a life coach. But regardless of what you do, make sure you've got somebody on your team who is helping you to achieve the life you desire.
4. Live Debt Free

I became a millionaire at about age 32, and debt-free at about age 43. I was almost debt-free at about 40, but we still had a small mortgage on one of our rental properties. By 43, it was all gone.
Except for an occasional leased car, because sometimes when it's better to lease when it's cheaper than paying cash, we've lived debt-free. Now, we're building a multimillion-dollar home, and we're going to build that debt-free, which is huge.
But living debt-free, in my opinion, has been one of the best financial decisions I have made. With taxes and insurance, sometimes it feels like you have a mortgage, right? Because when you don't have a mortgage, you have to pay taxes and insurance annually.
Set Your Goal
While you may not be able to live debt-free early in your life, just consider it as a goal. For me and my clients, who live debt-free, which is most of my clients, we all agree it provides us so much peace of mind and so much less stress.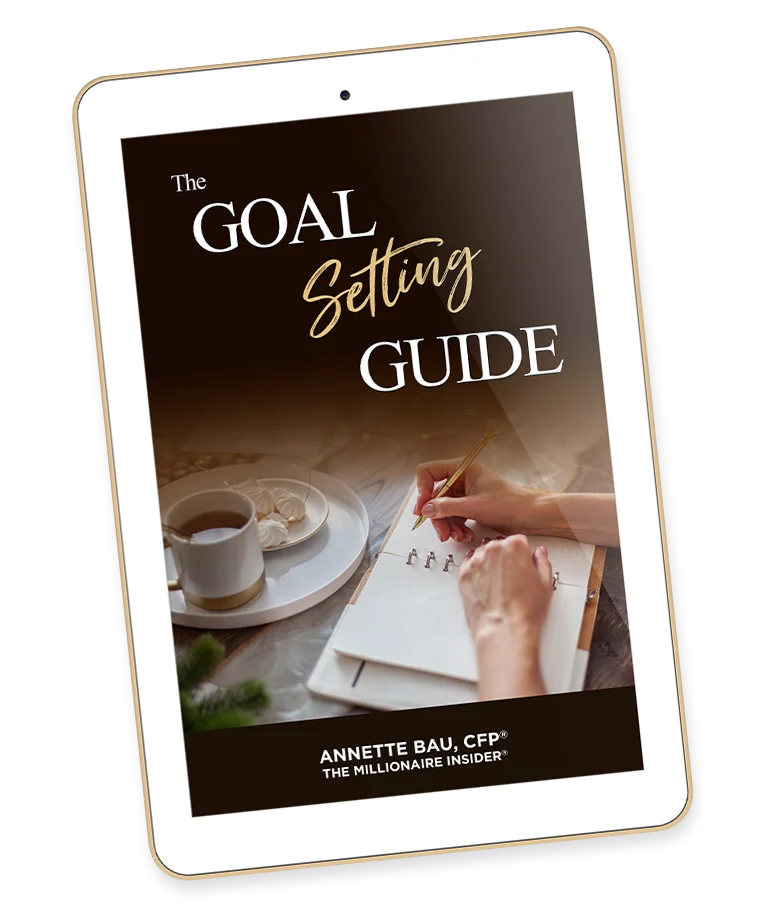 And I find for women, this is a much bigger issue than men. My husband, what's the big deal? I just want to know that I don't have debt, and I want to know that I have guaranteed income. Like, to me, that's just important.
Not so much to him.
5. Spend Less Than You Make
I share in the Overspending episode, https://themillionaireinsider.com/27, and I will link to that in the show notes, that most people think it's the big expenditures that get you in trouble. When in reality, I find it's the little things. Those $5-a-day coffees, those $1 dollar-a-day Slurpees. They're not that big of a deal, right?
When you start having two or three, and you start having them every day, you realize you are spending so much money.
Our friends were spending, like, $8,000 a year on coffee, specialty coffee. They were like, oh, my gosh, we didn't realize it was that much. Well, think what you can do with $8,000.
So just think about what you could do with $8,000, even investing it and compound interest. My gosh, if you start early enough, you're going to be a millionaire. It's crazy – the numbers. In fact, in one of the future episodes, I'll do the math on that, but it's huge.
Closely Monitor Your Expenses
The other thing is we closely monitor our expenses. And while we buy what we want and need, both my husband and I are very aware of our cash flow, and we're very good stewards of our money.
That's one thing I am so pleased with, and I'm so happy that we both are in alignment on that and that we both are very focused on living below our means, unlike one of our children who doesn't understand that concept.
And it is difficult for one of our children. It's funny and I wonder, do you think they dropped him at the hospital, or do you think he was born to someone else, and they've switched him?
I'm joking, but, boy, he is so about spending money and living rich as compared to our other children, who are much more about accumulating wealth. Very interesting.
6. I began investing in real estate and stocks early in life.

Always check with a qualified advisor before investing in anything, whether it's stocks, bonds, mutual funds, or real estate. One of the questions I get a lot is, would I purchase real estate now? Now, you know, we have made millions in real estate, and we own millions in real estate.
Sweat Equity
If I were investing in real estate right now, because real estate is overpriced by many people, I would consider real estate that offers sweat equity.
I would find some property, maybe even one that's in receivership. And there are some you have to do some work, but that's structurally sound.
Sometimes, you can't verify that when you buy it. But find one that is structurally sound, and that has just a need for new paint and new flooring. You can remodel as you have the money, but that's where you might be able to get a decent deal.
I'm talking about something that you could buy that you get a good price on because it needs to have some improvements, and then you do a lot of the work yourself.
Now, I suppose I could paint. I would not do floors. My husband and I are actually pretty good at remodeling.
Saving Money
We did a lot up at our cabin including three additions. would bet that we saved about $300,000 to $400,000 on all the work we did.
That's the power of it. Now, not everyone's capable of that, but there are things you can do. You can paint, and you can do minor repairs.
One of our neighbors up north taught herself how to lay tile, and she did the entire stone in her house herself. I was like, that's unbelievable. It can be done.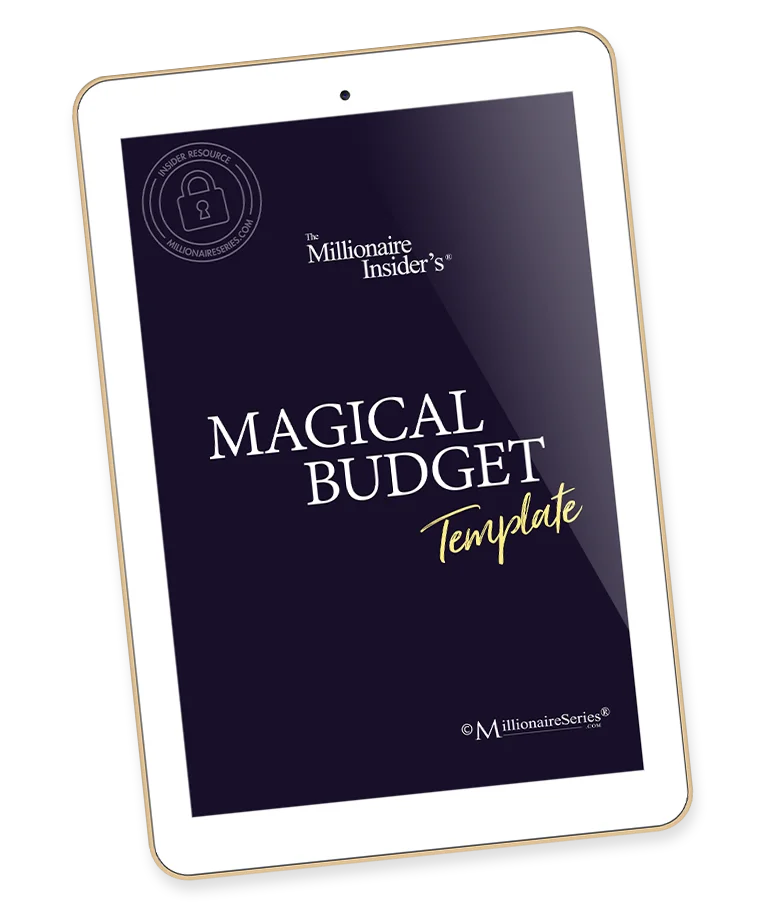 When thinking about the best financial decisions you can make, identify your strengths and ways to save money, too.
7. Create Passive Streams of Income
So important.
I learned early on from millionaires that the focus should be on streams of income and revenue versus a time-for-money model.
Examples of passive guaranteed income.
Now, these are generally through insurance companies. I'll link to the article on annuities in the show notes, but they are so powerful. Pensions also are an option, but those are much rarer for younger people.
You can earn passive income from dividends and interest as well as an online business. There are also options like network marketing or affiliate marketing. You just have to figure out your personality and what works for you, and then go for it.
That's the key as far as determining passive versus active revenue.
One of the other key things I did was commit to not just advising millionaires and wealthy people but also researching them.
Your Five Top Clients
Many of us have heard that our five closest friends are going to dictate our income. This means that if you look at your five closest friends, your income will be around theirs.
Well, I thought, what about clients and net worth? And one of my peers said that's a great idea. Well, it made a huge difference in my life and was one of the best financial decisions I made.
So, when you're around wealthy people, you start thinking and acting like them, right?
8. Elevate Your Worth Barometer

And then what I started realizing is some had amazing lives. Some had fulfilled and wealthy lives, and others had miserable and wealthy lives.
I realized that I needed to figure out what this was all about. And that's where I started learning about the Worth Barometer.
You can go to https://themillionaireinsider.com/3 if you want more insight on the Worth Barometer. And the other great decision was to elevate my Worth Barometer.
I work every day to elevate my Worth Barometer. Am I perfect? No.
Your Worth Barometer is a combination of your self-esteem and your beliefs. It dictates our Wealth Barometer to a point. Some people have a lot of money but have a very low Worth Barometer.
If you want to have a fulfilled and wealthy life, you have to have a healthy worth barometer. It dictates our ability to say yes or no. And it also gives us the discipline to create a financial plan and commit to securing a financial future and retirement you love. That's the power of a healthy Worth Barometer.
I am so grateful that I learned that and that I committed to working with successful people to figure out what's really going on.
So there you have it.
Recap – The Best Financial Decisions I Have Made

So, let's review.
1. Marry the right person.
2. Start financial planning early in your life.
3. Hire a great team of advisors, not just financial advisors, but mental health advisors, coaches, etc.
4. Live debt free.
5. Spend less than you make.
6. Start investing early in life.
7. Create passive and residual streams of revenue.
8. Elevate your worth barometer.
You're going to be so glad you did. Thank you so much for joining me.
Conclusion – The Best Financial Decisions I Have Made
While there are several smart financial decisions you can make, today I shared eight that profoundly impacted my life, and they can be yours too.
Review the insights and financial goals and then identify one to three actions you can start working on today.
You will be so glad you did!
Follow and Subscribe
If you love the content, we would really appreciate a five-star review. Until our next episode, take one action that will help you create a financially free life you love.
Click here to follow and leave a review.
Free Resource: Your Next Best Financial Step

Congratulations on taking another step to create a financially free life you love. Are you unsure about your financial future or that it's in order? Or are you ready to stop worrying about money or possibly the fear of becoming a bag lady and ending up broke in retirement?
If you are ready to know your financial house is in order so you have a secure financial future, please go to https://themillionaireinsider.com/nsf.
And that doesn't stand for non-sufficient funds.
It stands for Next Step Finance. It's the next best step of what you need to do so you can avoid an NSF notice in the future.
The number of women who were not broke or poor while working or married is staggering. Our mission for The Wealth Inside and Out® Podcast is to ensure you have critical information for you, your family, your friends, and anyone willing to listen to it and apply it to create a financially free life you love.
Click here to access your Next Step Financial Assessment:

Thank you for joining me for
The Best Financial Decisions I Have Made.
I'm Annette Bau, (Bah oo).
All international copyrights are reserved.
Bye for now.