What is End-of-Life Planning?
End-of-life planning is a critical part of a successful financial plan. It entails deciding how you want to be cared for at the end of your life. This can include everything from choosing someone to make medical decisions on your behalf to deciding where you want to die.
It is helpful to understand that there is no single right way to plan for death. What is most important is to take the time to think about what is important to you and communicate your wishes to your loved ones.
 Why is it Essential to Have an End-of-Life Plan?
There are several reasons for sharing your plans when you are no longer here. Perhaps the most important reason is to control what happens after you die. If you do not have a plan, your family and friends must decide about your care and disposition without knowing your wishes. This can lead to conflict and heartache at an already difficult time.
Making these decisions in advance can give you and your loved one peace of mind, knowing that your wishes and affairs are in order. If you take the time to plan, you can avoid making costly mistakes or placing the burden of making tough decisions about your care or finances on others.
If you're unsure where to start, don't worry; this article will provide the information you need.
How to Discuss an End-of-Life Plan with Your Loved Ones
End-of-life planning can be difficult to discuss with your loved ones because it is a sensitive topic. However, it is an important conversation, as it can help ensure that your wishes are carried out and that your loved ones are prepared for your passing. Here are some tips for discussing your life and estate plan with your loved ones: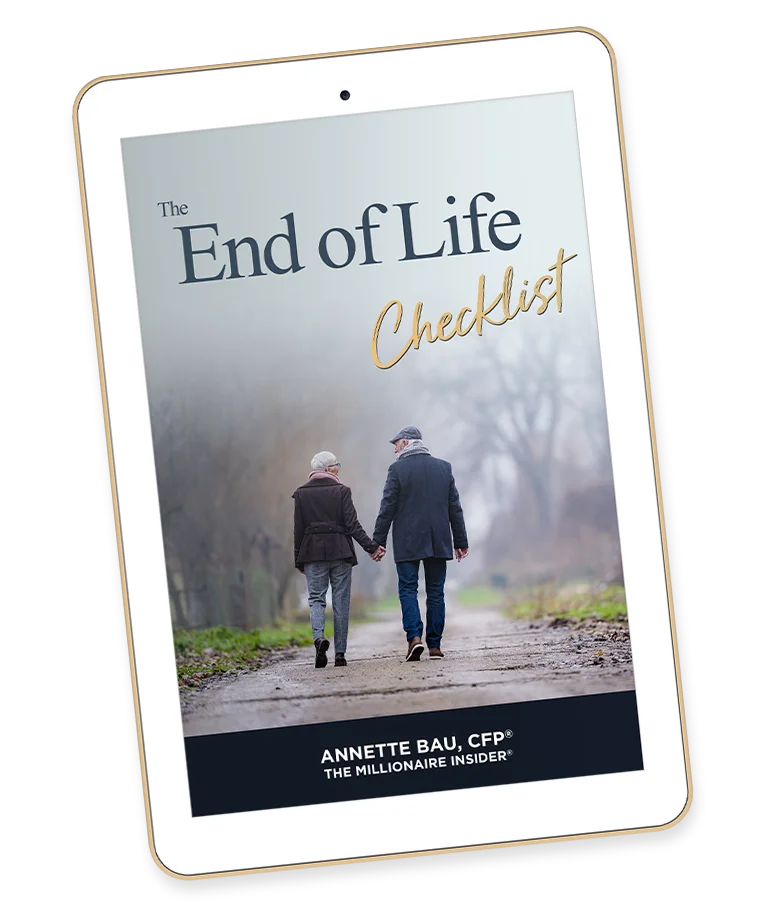 1. Choose the right time to talk.
Choosing a time to talk is important when everyone is calm and ready for a serious conversation. This should not be during a family gathering or holiday. Instead, pick a time when everyone can focus on the conversation without distractions. It can be helpful for you to create a financial or life planning checklist to help you stay on task.
 2. Be honest about your wishes.
During your discussion, be honest about your wishes for care and treatment. Your loved ones need to know what you want to ensure that they fulfill your wishes.
 3. Be prepared for questions.
Your loved ones may have several questions. Be prepared to answer these questions honestly and openly.
For example, you should be prepared to share or answer these questions:
Where can we find your legal documents, including your healthcare proxy or medical directives?
Can we view your living trust or estate plan?
Do you want life-sustaining treatments?
Who are you naming as your medical power of attorney?
Do you own any long-term care or life insurance?
What type of medical care do you want? Do you want to live at home, or is living in a nursing home an acceptable choice?
While it is important to remember that you get to decide what you share or do not share, the more information you provide, the more likely your wishes will be carried out, and generally, the easier the process will be for those left behind. If you are uncomfortable sharing the information with family members, consider providing it to your advisors. This may include your attorney, CPA, and financial planner.
4. Respect each other's wishes.

Even if you and your loved ones disagree, respecting each family member's wishes is important. Planning for death or incapacitation is a personal decision, and everyone should be allowed to make their own choices. You can always enroll the assistance of someone familiar with the process. If you have certain family members you fear will not honor your wishes or have a hard time discussing your death or incapacitation, you may want to exclude them from the meeting.
 5. Seek professional help.
If you have difficulty discussing tough life-planning topics with your loved ones, seek professional help. Your financial planner or attorney may be able to assist you in the process. Another option is to enlist a counselor or therapist to assist you in having these difficult conversations.
End-of-Life Planning Questions
Who should make my healthcare choices?
First, think of the people in your life who will honor your wishes
and execute your desires. You may choose a trusted family member, a friend, or someone with whom you worship. This is a very important decision, so choose carefully. You may not want to have one of your children or family members decide whether or not to sustain life or make major healthcare decisions.
How do you help someone with Alzheimer's or dementia get their affairs in order?
Ideally, they get their affairs in order before they can't. If that is not an option, you may need to hire an attorney or apply for a conservatorship.
Resources to Get Your Affairs in Order
The National Institute on Aging has free publications that can help you and your loved ones discuss critical issues.
Other helpful resources include:
National Hospice and Palliative Care Organization
800-658-8898
www.caringinfo.org
Centers for Medicare & Medicaid Services
800-633-4227
https://www.cms.gov
www.medicare.gov
National Academy of Elder Law Attorneys
703-942-5711
www.naela.org
National Elder Law Foundation
520-881-1076
www.nelf.org
Additional Resources:
If you are struggling emotionally and need to work on your confidence and worth, start here: Money Mindset Guide
Learn how to create more passive or residual income here: Passive Income
If you want more insight on building wealth, start here: Wealth Building
End-of-Life Planning Conclusion
Planning for your death or incapacitation can be stressful and difficult for you and your loved ones. Following these steps can make the process easier and a better experience for all affected.
If you need support, hire a professional trained in life and financial transitions. Examples include financial advisors, elder law attorneys, counselors, spiritual ministers, etc.; click here: