Today, in How to Think Like a Millionaire, you will learn four critical insights on how millionaires think and what they do differently than others. If you want to secure a financial future and retirement you love, you will love this episode!
Growing up, I seriously thought there was something wrong with me because I saw the world so differently than most people. I was really big picture. And I could see a direct flight to the destination.
While most people were caught up in the emotional moment and the problems that were occurring, it was like I had already landed at the desired destination, and nothing was going to get in my way. Almost to a fault.
My focus was on efficiency, and I was laser-focused on the end goal. I wasn't focused as much on where I was or the people around me, and that's not a great thing. Knowing where you're going is a great thing, but not being present once you know where you're going is not.
The Power of Confidence and Courage
And I also lacked confidence and courage.
What I'm going to share with you today is some insight that can really help you on your journey to think more like a millionaire.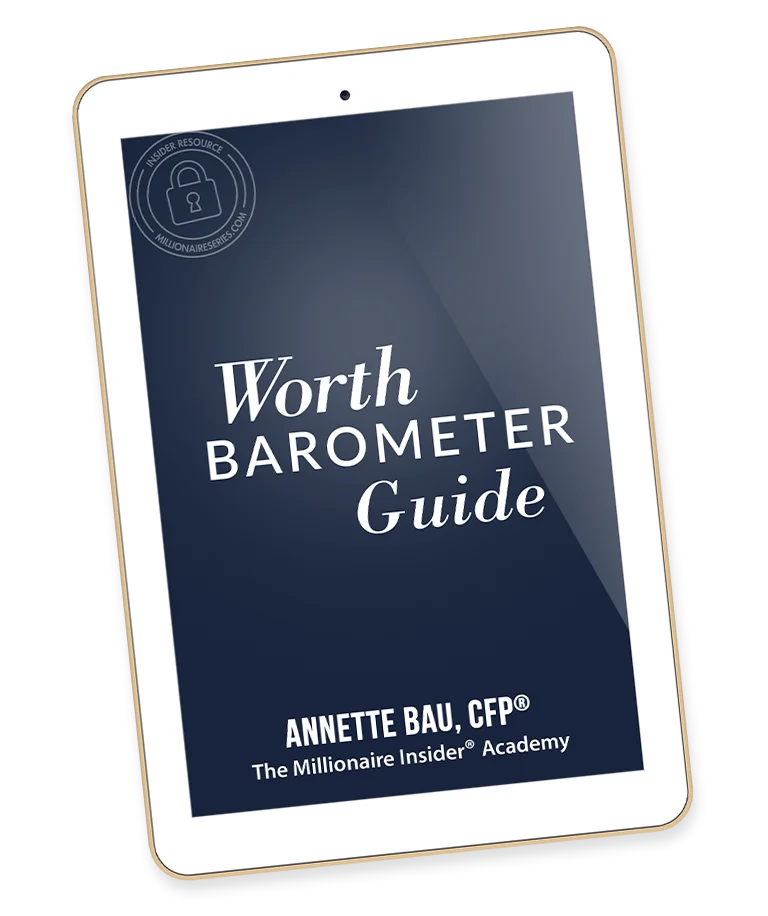 Real World Example
And I want to give you an example before we dive in.
I was in 9th-grade literature, and we were reading a book about an Indian girl and her life. Every day the teacher would ask, "What do you think the author was thinking when she said this?"
Now, I lived in South Dakota, so as you may or may not know, a large population of our state is an Indian reservation creating a lot of heritage. So, there was a lot of really good local value to learn from. But the question about what the author was thinking every day was driving me crazy.
After a few weeks, I thought, "This is such a waste of time."
I knew the author lived in Nebraska. So, I got home and called directory assistance because that's what we did back then. I found her phone number and called her. She was delightful, and she shared with me what she was thinking.
The next day I got to class and when the teacher asked, "What do you think she was thinking?" So, I raised my hand and shared. I learned such a valuable lesson about courage from this experience.
The Courage to Do Tough Things

The teacher said, "Well, how do you know that?"
I did not have the courage to share with her that I'd called the author because I knew the guys in my class would give me so much grief. That feeling of lacking the confidence and courage to speak up at that moment bothered me for years. I believe it gave me the confidence and courage to do a lot of hard things in my life.
When I began advising super-wealthy clients in my twenties and thirties, I believe that experience gave me confidence even when I was scared because I didn't want to feel the way I had when I was afraid to speak up. It gave me insight that allowed me to speak up even when I was nervous.
If you need more confidence, insight, or wealth, you're going to love today's episode.
So, let's dive in.
Transcript: Wealth Inside and Out® Podcast – How to Think Like a Millionaire
Hi, my name is Annette Bau (bah oo), your host of the Wealth Inside and Out® Podcast. I'm a Certified Financial Planner™ and founder of The Millionaire Insider®.
For over 30 years, I have been advising and researching the top 1% of millionaires.
I am passionately obsessed with money, mindset, and the intersection of self-worth and net worth and how the two connect and allow us to live fulfilled and wealthy lives on our terms.
From Humble Beginnings…
Growing up in the Midwest, I had a dream. I began investing $25 a month 35 years ago, and today have a multimillion-dollar net worth.
I teach the tried-and-true principles that only someone with over three decades of experience advising millionaires would know.
This podcast is different – it's about much more than money.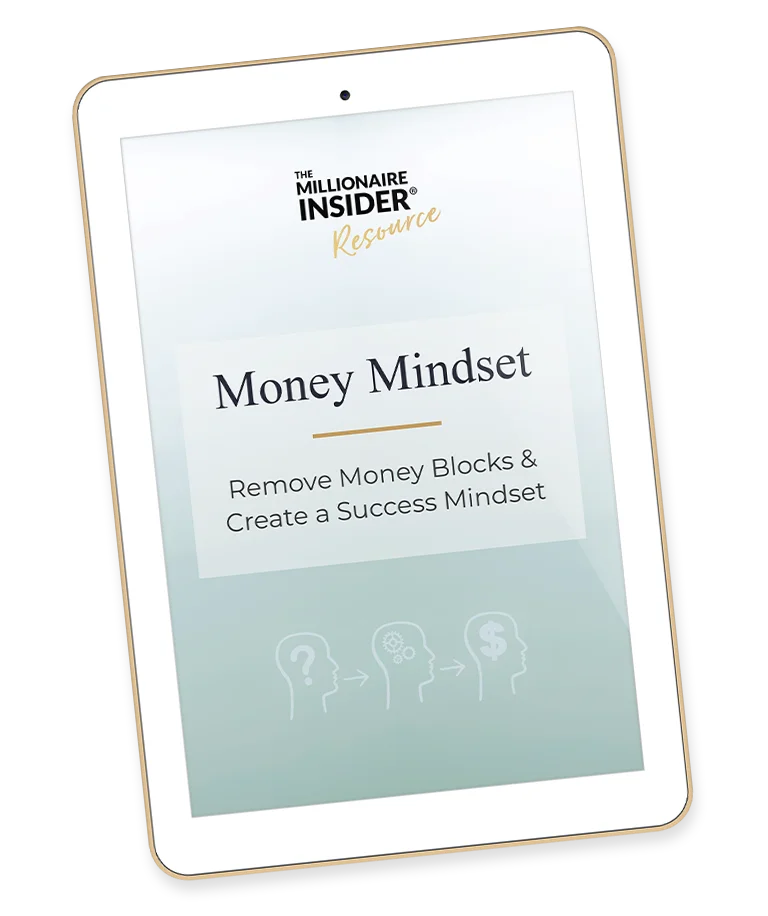 We talk about mindset, success, money blocks, worth barometer, and all aspects of money. I also cover topics from practical manifestation, along with real-world how-to, and everything in between, with the goal of making your journey easier and more fun.
Think of this as coffee, actually, matcha tea, learning real-world, common sense, money, and life advice from a BFF that you can start applying today. If you want to create a financially free life you love, you are in the right place, my friend.
This is the Wealth Inside and Out® Podcast.
Why Thinking Like a Millionaire is Important
So today you're going to learn how to think like a millionaire, even if your goal is not to become a millionaire.
Now, I hope it is your goal to be a millionaire, and I'll tell you why. First, I think it's harder to be a non-millionaire in retirement than it is to be a millionaire. Unless you look forward to worrying about money, not having enough money, or living in anxiety, it is not fun.
I've seen a lot of both, and I'm just telling you, becoming a millionaire is better. It gives you choices. Don't worry, it's not going to change you unless you already are a jerk.
Meaning if you're a jerk and you become a millionaire, you're going to become more of a jerk. If you're a nice person and you become a millionaire, you're going to become more of a nice person.
Second, you'll still have to do the work just on a different scale if you want to live fulfilled and wealthy.
So just be aware of that. It is so worth it. Anyone who says that the other side of fulfilled, wealthy, healthy, and weighing your ideal weight isn't better has never spent much time there. I'm telling you, it is priceless and so worth the journey.
Disclosure
All materials and intellectual property are copywritten by millionaires.com. The information we provide is not intended to replace any advisor or specialist or to provide you with any investment, financial, tax, retirement, or any planning or healthcare advice.
All participants agree to hold millionaires.com and its affiliates harmless or results achieved or not achieved.
So let's dive into…
How to Think Like a Millionaire.
1. Have Courage and Confidence
The first thing is that millionaires have courage and confidence.
Not in a narcissistic way or thinking they are better than anyone, but feeling confident in who they are, what they're thinking, and how they feel.
You can develop courage and confidence in several ways.
Share Your Crazy Ideas
I recommend that you find someone you trust. Choose someone that you can bounce some of your crazy thoughts and ideas off of and that's going to be honest with you. For me, it's my husband, my kids, and some of my friends, meaning I can share things with them.
They're not just going to agree with me, they're going to give me their thoughts. And sometimes, especially with my husband, I'm like, no, that's not the answer I wanted.
But you need to have somebody that's got the confidence to be able to respond because you want to be able to identify if what you're going to do is courageous or if it's crazy or whatever.
Eventually, you're going to get different ideas as you start meandering out into the world of doing the unknown and trying crazy things like multimillionaires do and have done.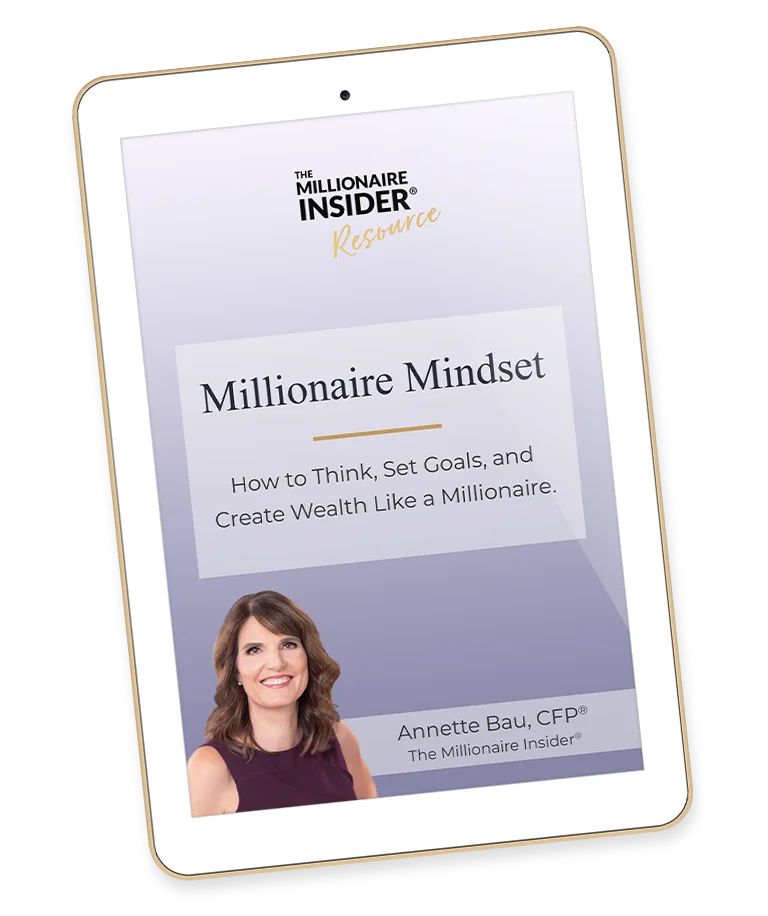 Do It Scared
Early in my career, in my twenties and thirties, I started working with deca-millionaires who have a net worth of $10 million and centi-millionaires who have a net worth of $100 million.
And while I was terrified, I still did it.
I approached them, I talked with them, and I got their business. So, you can do it scared. Now over time, you're going to get better.
And now I'm more confident and qualified to work with and advise wealthy people than I am with poor or struggling people. Over the years, I now resonate much more with people who have an abundance mindset and they either have or are moving toward a fulfilled and wealthy life.
Now, I can do fine with people who don't yet have the money they desire if they've got the mindset and they're willing to take the ownership and responsibility to get it.
On the other hand, I don't do well with people who have excuses for why they are where they are and that those excuses are driving their life and keeping them stuck. It's like, okay, well then just keep doing it. You don't need to convince me of anything. Because you're going to be the one living your life, not me.
It's just interesting how some people are so caught up in their problems and what's not working and why they are broke, poor, miserable, etc.
Okay, I believe you, I trust you, just don't let that energy become dominant because it'll drive you crazy.
Developing Confidence and Courage
And that's something we all must learn on the journey. It's important to understand that most people are not born confident and courageous. This is something we all have to learn, especially women. So I want to give you another example of courage and confidence because obviously, early in my life, it's one thing, right, you're in your 20s, you really don't know what you're doing.
Now that I'm in my 50s, it's a little different story. At the end of last year, I went to a three-day event. I attended the event for one reason: to get my daughter to go.
I went with my daughter, hoping to let someone else talk about the fact that the way we think about something determines our emotions and ultimately determines our results. Not the actual situation or circumstance.
A lot of people think, "You'll never guess what happened to me". Well, it's not the event that is impacting how you feel, it's how you're thinking about the event.
Cognitive Behavior Therapy

And it's been game-changing for me. I mean, anyone that's got a background in psychology, it's kind of cognitive behavioral therapy. But the power of it is when you really get it, it really impacts your life.
And I thought maybe if she heard it from someone else, she would get it. But she didn't show up. So here I am, alone.
There were about 2,000 women in total, and 1000 were live. Overall, I was out of my comfort zone. I don't go to events alone unless I'm speaking on stage or I'm with a group.
And so I'm more of an introvert. I don't really enjoy being in large groups and I especially don't like being around people I don't know. Now, yeah, I can adapt, and I can get along with people and I love learning about people, but it's just not how I'm fed.
I enjoy being with my family and close friends, in a small intimate environment much more than I like spending time in a large group. So again, we're all different. I just want to give you that backstory, so you understand.
Rich versus Wealthy
I was impressed with the woman that was leading the event. She's very into money, and she is more rich than she is wealthy.
While there, I was dying to ask the speaker a question because most of my research has been with wealthy people and I have only worked with a few rich clients. In case you don't know the difference between rich and wealthy, you can go to https://themillionaireinsider.com/10.
Rich is much more focused on earning income. Being wealthy is much more focused on the accumulation of wealth. Finally, on the third day of the event, I got the courage to ask a question.
Now, this woman is a ballbuster, and I rarely get nervous talking to people or asking questions. But here we're in a huge audience and I didn't know where she was going to go with my question. I mean, she puts stuff right back at you.
And so just to give you an idea, I wasn't like perspiring. I could feel sweat rolling down my arms on my sides. How ridiculous.
Ultimately, the only reason I even know what I said is because one of my friends taped me. I met some people who are now, to this day, my friends. It's funny because I don't even really remember what I said.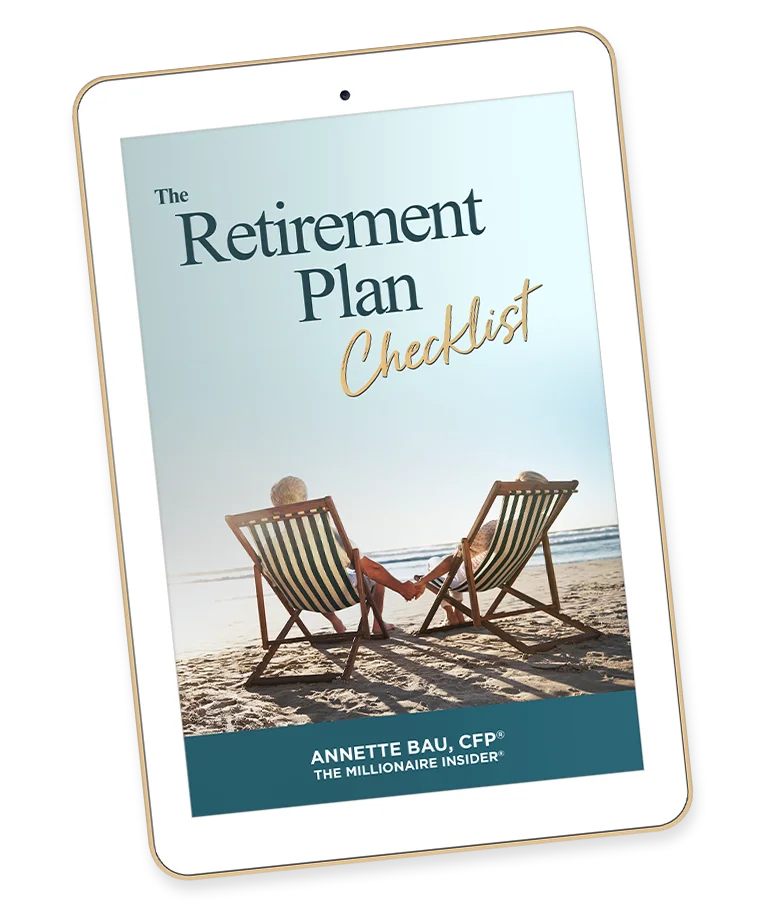 Being Courageous Even When You Are Nervous.
I remember what I said initially, but then I didn't remember anything because the speaker and I got into a dialogue. What was so funny about it was that I asked the question because I'm courageous even when I am nervous, and not speaking up leaves me with regret. And I don't ever want to feel like how I felt when I was in the 9th grade.
This point is critical for anyone listening. The question that I was going to ask her wasn't about me. It was about the women I want to help.
As you may know, one of my goals is to reach 10 million women and impact their lives financially. I want to help them live fulfilled and wealthy lives so they can secure a financial future and retirement they love. Ultimately, I knew that getting this woman's perspective would just be huge.
On a side note, just by asking that question, I had over 75 women come up to me and give me their contact information after the session.
Several of them, probably like six to eight, said, "How did you ask that without being nervous?" I replied, I wasn't nervous, I was terrified." Other people were like, really? You didn't seem nervous.
But see, this is the thing. I could tell from watching the video that I was nervous. But what was so funny was the fact that no one who asked me that question thought I was nervous.
Practice Being Courageous and Confident
As you get more comfortable being courageous and confident, you're going to have fewer outward characteristics of being nervous. And that's one thing that I see a lot in millionaires how they think and what they do. Even if they do feel a little nervous or apprehensive, they still move forward.
They have the confidence in themselves to be who they are and to speak up.
Now, what she said to me was a game-changer. And it's kind of interesting because initially I thought, well, that's not a big deal. But it really was.
How Do I Best Help Women Achieve a Secure Financial Future?
My question was, how do I best help women? I've spent 35 years advising the upper echelon of millionaires, mostly men who are married to women, but mostly men, and 40 years researching them.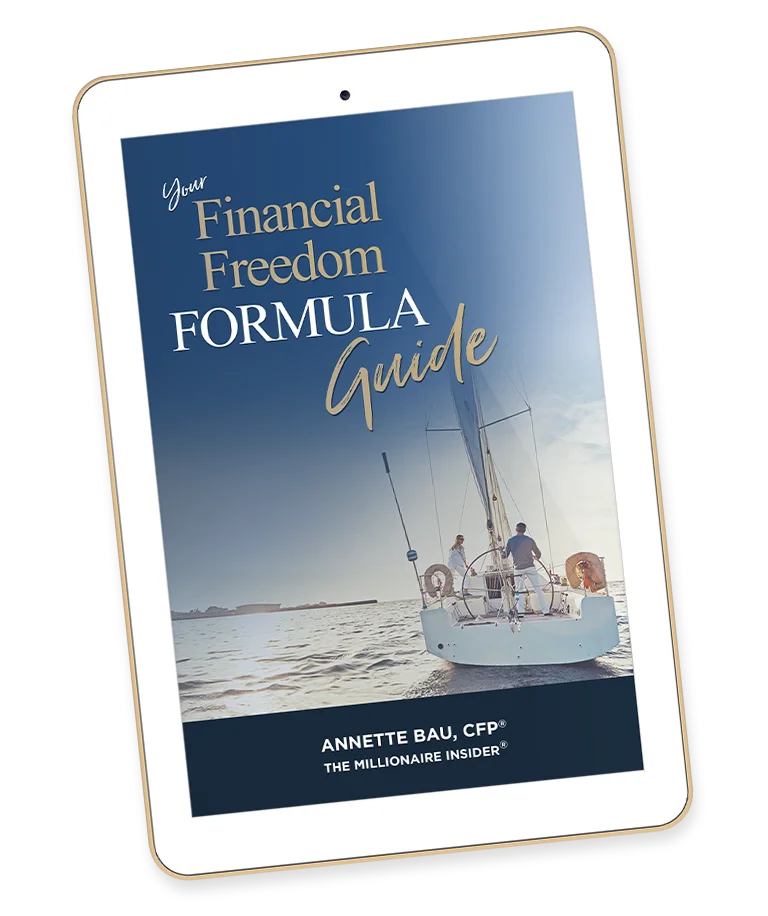 I had been asking myself, at what level do I teach them? Because I see life and money and a fulfilled life at such a 10,000-foot view I was thinking I needed to go down to their level.
The speaker said, "No, you need to teach people not where they are, but where they need to go. They need to learn how to think like a millionaire." Boy, if that didn't change everything.
Learning How to Think Like a Millionaire
If you learn how to think like a millionaire, you're going to dramatically increase your odds of success. Now, I can't guarantee you that you're going to be a millionaire.
That's illegal. It's against the law. But what I can say is by taking certain actions, including developing a millionaire mindset, you will dramatically increase your odds.
One of the critical steps on how to think like a millionaire is gaining confidence and courage.
2. Know the Desired Destination
Millionaires know where they're going.
To start thinking like a millionaire, you've got to know and see your flight plan.
What is your starting point and where are you going? Where do you want to end up? Most people live day to day every day, day in and day out. They kind of just do their thing.
Now, living in the moment is wonderful and so important, something I didn't do when I was younger. That is if you know where you're going.
Destination Unknown
But when you live day to day with no idea of the destination, it's what I call destination unknown. It's going to be either really good or really bad.
Now, most people would never go to Vegas and just play Russian roulette with all their money, right?
But without a flight plan and a clear destination, basically these people are playing Russian roulette with their future and retirement, and it is terrifying.
Dopamine Hits

Living in the moment is more common with rich people, who have higher incomes and lower net worth because they are so driven by dopamine hits.
Think of it. You drink a cup of coffee, you have sex, you enjoy your favorite food, you go and drink alcohol.
All of those are dopamine hits, and we all get them in different ways.
Rich people are much more driven by their primal (toddler/child) brain as compared to wealthy people who are more focused and comfortable with dopamine drips versus dopamine hits.
Meaning we don't need to be getting those hits from earning a lot of money, getting attention, or wearing the cutest outfit to feel good and to have a healthy self-esteem. We're more focused on wealth accumulation and have high net worth and often lower incomes.
The Difference Between Rich and Wealthy
Most people have no idea the difference between rich and wealthy.
And again, being rich is all about looking like you have money, and spending like you have money, but really they have high incomes and high debt.
Wealthy people don't appear like they have money and they don't spend like they do, but they have assets and little or no debt.
Again, you can go to https://themillionaireinsider.com/10 to read about rich and wealthy.
Creating a Secure Retirement that You Love
You need to determine what your financial future and retirement look like for you. In 40 years of researching this, I believe the goal is to live a fulfilled life, whether it's with or without money.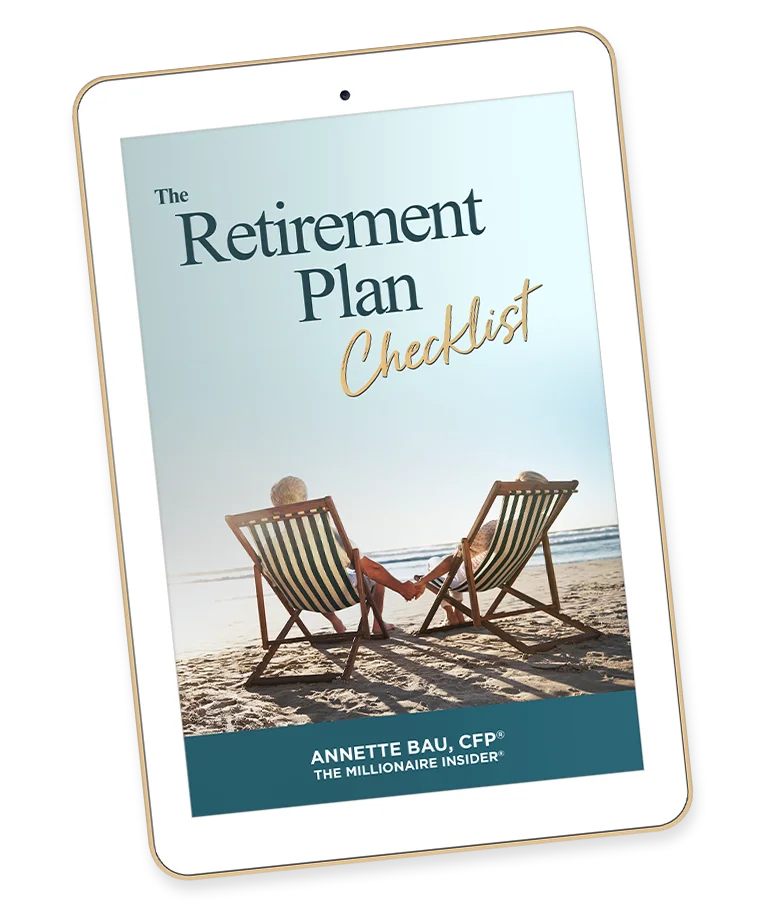 Now, I would argue that living a fulfilled life without enough money is pure, H.E. double toothpicks.
You've got to decide if being stressed about money, wondering if you have enough money, never being able to say yes to what you want to do, and always penny-pinching is your thing.
Because you're going to be living it in retirement. And you're going to be living it for years, so you got to be really clear on that.
Identify the Feeling
Once you identify where you want to end up in your life, specifically in your retirement, then you have to identify the feeling you believe you're going to have when you get there.
For example, if peace of mind is the goal, when you are living a secure retirement you love, I want you to focus on that emotion. Meaning I want you to get clear and embody how you feel when you're experiencing peace of mind now, even if you haven't achieved that goal, that's absolutely critical.
Then it's also critical that you don't let your daily emotions keep you from doing what you need to do to achieve your goal.
Real World Example
I'll give you an example today. It's Saturday. I did not feel like recording my podcast.
But this week has just been so busy in my advisory business that I didn't get my podcast episodes. We batch and I didn't get them all done.
My goal is to help 10 million women and their partners secure a financial future and retirement they love.
I know that when I achieve that, I'm going to feel even more fulfilled, more grateful, a lot of gratitude, a lot of positive emotions because I've given back. And that's my way of really taking responsibility for all the success I've had. Because, as you know, I believe that with great success comes great responsibility.
Now, for me to do that, it requires that I blog and podcast consistently, regardless of how I'm feeling at the moment.
My husband and I are heading to the Carolinas in a few weeks to spend time with one of my high school friends and her husband. So I've got to be ahead of what I need to do.
Although I didn't feel like it, here I am. And that's what I'm hoping you will continue to work towards mastering. It takes 18 to 254 days to change a habit. On average, 66 days. So about two months.
So just commit. It does get easier.
3. Don't Let a Road Stop Become a Roadblock

They understand that failure is a road stop on the journey to success, not a roadblock.
It's only a roadblock if you make it. One, they don't. And the real secret is not to give up.
Once I realized in high school what a millionaire was and the life they led, meaning they could do what they wanted to do, that was my goal.
I thought it was literally the only thing that was missing from my miserable life. And, I absolutely hated my life when I was younger.
I looked back on my life and thought, this is what gave me hope. Then in college, I realized I wanted a career where I could help people and also make an unlimited revenue upside based on my efforts. And that's how I became a financial planner.
But one of the things that's so interesting is that obviously just having money is not the key. A fulfilled life is. So just don't lose sight of that.
Determination and Tenacity
Once I decided I wanted to be a financial planner, I got out the phone book and started calling every financial planning firm, starting with As, and finally got to Beckwood Financial. They agreed to let me work for them for free just to get experience.
I had people hang up on me, laugh at me, and tell me that there's no way anyone would hire a college student without any experience.
What was so funny is I was just so clear on my goal; I didn't care if I got through the Z's and I had to go through the A's through Z's again, I was going to find an opportunity to get some experience.
And I just think, like, how fascinating that somebody would not see that as being like, I want this person in my firm, they're going to add value.
It's just fascinating to me. But at the time I was in Arizona without air conditioning in my car and I had to drive 45 minutes each way and it was not fun. I would have to take a change of clothes and deodorant and then change once I got to my job.
Getting Experience
But after the first day, they were very impressed and they agreed to pay me $5 an hour. I would have worked for free for the experience. That's how I saw it.
And nothing, no road stop was going to become a roadblock on my journey. Ultimately, that's where I want you to get. You should be the only person who gets to decide if it's a road stop or a roadblock.
So don't let a road stop become a roadblock.
Time For Money Model

Before we dive into number four, I want you to understand the importance of the upside in your revenue. And I understand that it's not super easy and it doesn't happen overnight.
But what I will say is I personally believe a time-for-money model is one of the hardest things you can get into. Now early on in your life, you're going to have to do it.
You should be working when you get paid, meaning the only time you get paid is when you're at work is rarely a great long-term solution.
Income with No Upside
Upon graduating with a BS in finance from ASU and an emphasis in psychology, I had a variety of job offers. Now this was in the 80's and I was getting offers from $60,000 to $80,000. So great offers, but I didn't want to have a time-for-money model.
I attended this job fair and one of the largest financial firms hired me. The agreement was that after six months of their newbie training, I could be my own agent. I would have no guaranteed base, but an unlimited upside in my income, and I was ecstatic.
What Dictates Our Future
Fast forward six months. My manager said, "We got to talk." And you know that feeling you get in your stomach when you're like, something's not right?
And he said, "Annette, you're young, attractive, and a female. You don't have what it takes, and you will never make it. But you're smart and driven, so you get to work with Tim."
He was the only other minority in the office and happened to be an African-American man.
The only issue with him was that he had a lower opinion of women and told me the only women making it in the financial services were sleeping with their clients.
I was so naive. I was, like, 24. And the crazy part about it, what still frustrates me to this day, is that I believed him. I'm like, oh, that's why there's so few women in the financial services.
But literally, I left, and I was so angry for about three or four years. I just spent so much of my energy contemplating my response to them once I was successful.
Your Worth Barometer
At the time, I had no idea of the Worth Barometer.
If you're not familiar with the Worth Barometer, you can go to https://themillionaireinsider.com/3. The Worth Barometer is a combination of your belief and self-esteem. At the time, I didn't know about it. I was still doing research.
I was still learning how some people are successful and others aren't. But I didn't have that dialed in.
One day, it was literally like, divine intervention, where I'm like, this is crazy.
I am spending so much time and energy on these two people who had tried to destroy my career. They weren't even in my life at that point but it was producing so much negative energy.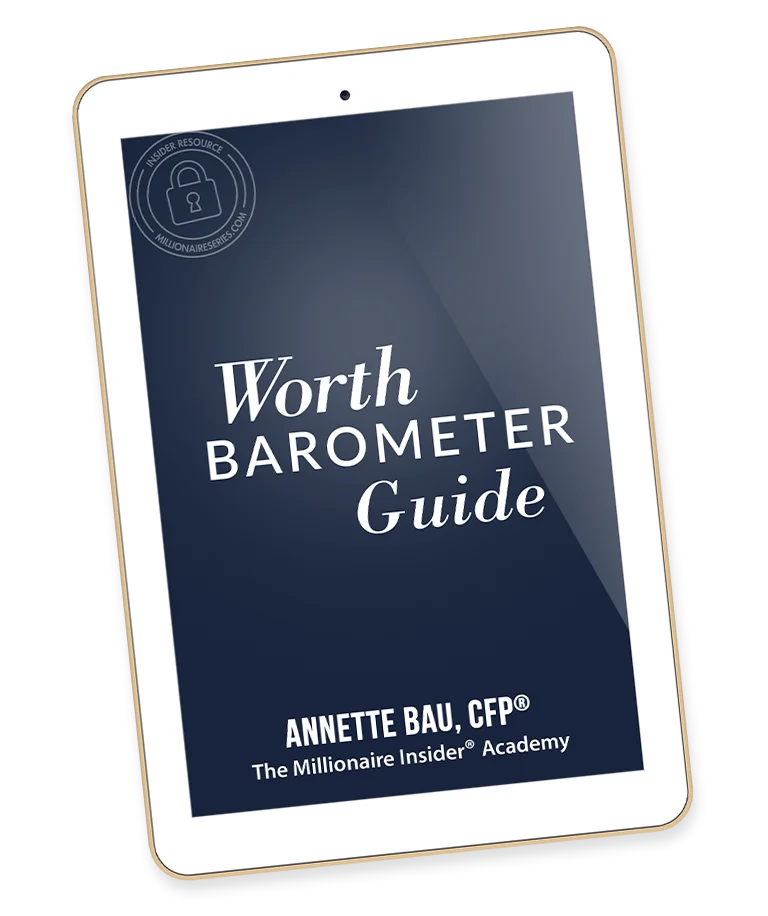 Then I said to myself, I may never be a millionaire or a top producer, but what I do know is if I start focusing on serving my clients and doing my best, I'm going to be further ahead than if I don't.
The Universe Has Your Back
Well, fast forward about four years later, my first major deal generated just under a million dollars. The manager who told me, "You don't have what it takes, you'll never make it," had been trying to acquire that client for over a decade.
The attractive African-American man I was working for temporarily was dealt his hand of cards. I ran into him at a conference. God blessed him with about another two or 300 pounds of weight. I just like, oh, my gosh. It was terrible.
The point being in all of this, my friends, is don't let road stops deter you or become a roadblock. Had I let this situation derail me, I would not be living a fulfilled and wealthy life today. So, I really hope that insight helps you.
4. Understand the Difference Between Income and Wealth
So in high school, as I mentioned, I realized my problem was that my family and I didn't have money. I knew that once we had it, everything would be perfect. I mean, clearly not true.
Let me add that living fulfilled, wealthy, and weighing my ideal weight is priceless. It's so much better than being broke or weighing more than you desire.
Now, shortly after graduating from college, I just wanted to become rich, and that's income. But fortunately, the millionaires I worked with, specifically a centi-millionaire, said, that is the worst goal you can have.
Earning Money versus Accumulating Wealth

The goal isn't earning money. It's accumulating wealth. That means you should have more assets and fewer, liabilities. So important.
Now, it's critical that you get the difference between earning income and building wealth, and I clearly didn't.
What I want you to start doing is just paying attention because everything out there, all the awards in every company is really about how much you make.
In my opinion, that's why so many people are broke.
Lifestyle Creep
Everyone's focused on earning more, and then they get into the lifestyle creep where they're earning more and they're spending more.
Lifestyle spending is a loop. You earn more, you spend more, you earn more, you spend more, and you never have any money to accumulate because your focus is on the wrong star.
You can't let that be you.
Society Rewards Income
Society rewards people who are making more money and people who look like they have money.
I was a top producer for 22 years, and of those 22 years, two of them, I was number one in the world. Like one year, I think I was number one or two one year, and then number three. But high up there, and when you're number one in the world, it's crazy.
You get flown over to Europe, and get all these gifts. I mean, crazy things. Everyone's telling you how smart you are. It is like the biggest high you could have.
Inner Game Mastery

But when I achieved my crazy net worth goal in 2021, which was literally 18.9 times greater than my top income year, no one sent me gifts.
No one told me how smart I was.
Because see, the issue is our society does not reward the accumulation of wealth as much as it rewards the earning of money.
So you need to be really clear on that, because earning money is much more of a dopamine hit, whereas the accumulation of wealth is much more of a dopamine drip. Learning how to think like a millionaire and live a fulfilled life requires mastery of your inner game. This allows you to win the money game versus an outer game of dopamine hits you get from earning money.
If you want to learn how to think like a millionaire, it is critical that you get this insight.
You Must Cheer Yourself On
It's not easy to build wealth because when no one else is out there cheering you on, you must cheer yourself on.
Your accolades and your worth need to come from within. Then what happens is you can focus on the accumulation of wealth and generating income from your assets.
This is passive or residual income. It is so important, and it is just such a game changer, that's when you're able to retire.
You don't have to work and it is just priceless.
Recap – How to Think Like a Millionaire

So, there you have four insights on how to think like a millionaire.
So let's review them.
1. Have Courage and Confidence.
And you, my friend, can too. We are not born with it. We develop it.
2. Know Your Desired Destination
Millionaires know where they're going. And they are headed to their desired destination versus no destination.
3. Don't Let a Road Stop Become a Roadblock
Millionaires understand that failure is a road stop on the journey to success, not a roadblock.
It only becomes a roadblock if you allow it to. And they don't give up.
Now, this is really important. Sometimes you're going to have to meander you can't stay on the same course because you might be in collision with another jet.
That's okay. That's different. Changing courses or testing different things to see the results you're getting is just smart. That is better than giving up.
Giving up is where you say, I just can't do it. You go get a job flipping burgers at McDonald's or you become a hostess or something like that. That's what I'm talking about.
4. Understand the Difference Between Income and Wealth
A millionaire's focus is on the accumulation of wealth so that they can create residual and passive income and live on that as compared to earned income.
So good.
Conclusion – How to Think Like a Millionaire
I want to thank you so much for joining me on how to think like a millionaire.
Now, what I want you to do is go and start taking a couple of nuggets you got here and start applying them. You're going to be so glad you did.
Follow and Subscribe
If you love the content, we would really appreciate a five-star review. Until our next episode, take one action that will help you create a financially free life you love.
Click here to follow and leave a review.
Free Resource: Your Next Best Financial Step

Congratulations on taking another step to create a financially free life you love. Are you unsure about your financial future or that it's in order? Or are you ready to stop worrying about money or possibly the fear of becoming a bag lady and ending up broke in retirement?
If you are ready to know your financial house is in order so you have a secure financial future, please go to https://themillionaireinsider.com/nsf.
And that doesn't stand for non-sufficient funds.
It stands for Next Step Finance. It's the next best step of what you need to do so you can avoid an NSF notice in the future.
The number of women who were not broke or poor while working or married is staggering. Our mission for The Wealth Inside and Out® Podcast is to ensure you have critical information for you, your family, your friends, and anyone willing to listen to it and apply it to create a financially free life you love.
Click here to access your Next Step Financial Assessment:

Thank you so much for joining me for
How to Think Like a Millionaire.
I'm Annette Bau, (Bah oo).
All international copyrights are reserved.
Bye for now.